Did you enjoy In the Garden of Beasts?? Below are some discussion questions that you can use for you OWN book club!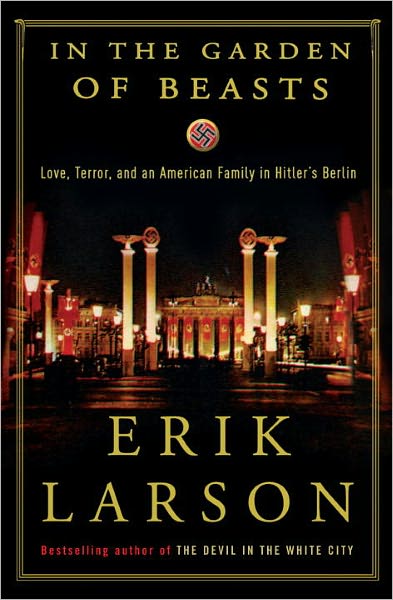 But I digress…
These are some questions/topics I want to discuss. You don't need to answer every question (this isn't a book report!), but just the ones that interest you. I find this book completely discussion worthy – there are so many things I said, "WHY!!" to when reading it. I was also, at times, a little confused because there are SO MANY PEOPLE INVOLVED.
1. Why do you think everyone was so in love with Hitler? Even Dodd seemed to have a political crush on him when he first arrived in Germany.
2. When you think Dodd realized that following the Nazi party was like putting on a pair of Bad Idea Jeans?
3. Did you like the Dodd family? What were your first impressions? Did it frustrate you that the "Pretty Good Club" had it out for Dodd?
4. Let's talk about Martha. Were you surprised by her, ahem, "behavior"? Did you approve? Do you sense a double standard from the author? Why do you think her parents just turned a blind eye?
5. Were you surprised at anti-semitism that not only came from Germany – but also the US? Where do you think that Dodds stood?
6. What were your feelings about Hitler?
7. What disturbed you most about this book?
8. Do you think that Dodd did all that he could to warn the US about Hitler and the Nazi party? Is there anything else he could have done?
9. Could you draw any correlations from this period in history to current/recent history?
10. Did you like this book? What were your overall thoughts on the way the story was told?
Bonus question – What the hell was Bill (Dodd's son) doing the whole time they were there?? Let's get creative.